Social media is not just a place for the new generations. Baby boomers turning to YouTube, Facebook, Instagram, LinkedIn and other social media sites has changed the stats.
Internet is a welcoming space for all, where this generation has grabbed attention for being the most available crowd among the others.  
Boomers, also known as the "Me-Generation," constitute a substantial part of the population. They were born post the World War II when the birth rates across the globe spurted rapidly. There was an explosion of infant births, which got termed as a "baby boom".
Historians believe that the disastrous aftermath of World War II left people in depression. This incident instilled a desire for normalcy and stability in them to put the war to an end. A sense of confidence entered society in the era when they felt the future would be developing and secure. 
Indeed, in the late 1950's the generation experienced proliferating businesses, increase in salaries, innovations, and discoveries that supported sustenance. 
Recall the era of Elvis Presley, bell bottom trousers, Civil Rights Act, rebellious feminist movements, and first mini-skirts. Baby boomers were the mavericks of the 20th century.
The generation saw considerable shifts in ideologies and social conditions. Thus, they were the real ground-breakers for the future.
Every generation has a unique trait and follows a specific pattern of social civilization. These generational personality features take shape under the influence of social events and recent history records. People become and behave as what they experience during a particular time.
Studies report that the core values of baby boomers include personal appeasement, career growth, overall health & well-being, recognition, work culture, and lifestyle. The generation is comfortable with the surrounding that values their ethics and beliefs.
Baby Boomer's dependency on Social media
The eldest of this generation are near 75 years of age while the youngest is 55 years.
Most of these boomers are either part of the workforce or have already retired. They seek information and intent to stay active online, thus confirming a stable living in the racing internet times.
Approximately 35% of boomers on the internet utilize the sites to establish an excellent professional network. It indicates their interest in connecting to companies, businesses and markets.
Their needs depend on various factors like gender, demography and interests, which changes the way a boomer surfs the internet than the other.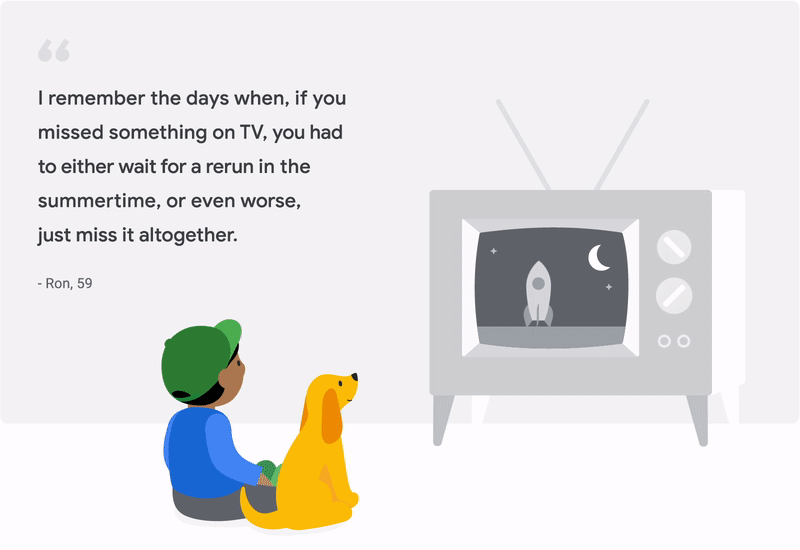 In contrast to the usual thoughts of most people, baby boomers are 19% more likely to share online content. As per Google research records, 54% of this generation watches videos online for entertainment and utility concerns.
Baby boomers turning to YouTube has also helped brands advertise successfully with more conversions and impressions for these same facts.
YouTube is the most preferred social media platform for them with over one quarter constituting to its audience. The baby boomers watch around 500 Million hours of video on YouTube, which is higher than other generations.
Google's study from 2013, on reaching today's boomers online says, 50% of baby boomers watch online videos, YouTube being the most preferred site with an 82% watch rate. Moreover, the study revealed that 3600 users of this generation searched "YouTube" every minute per day.
The most astonishing fact is that baby boomers have a 10% higher view rates than the millennials.
Baby Boomers turning to YouTube
Video content is the most preferred type of element that viewers like to engage in through online sites. These are informative, relatable, and entertaining enough to attract an audience from different demographics, ages, races, and communities.
Videos have been the marketer's best friends in this internet era. It is because they help in expressing and interacting better than plain text or image. YouTube has been the top place for advertisements due to the same reason.
Baby boomers are found more associated with YouTube than any other generation because the platform helps them stay engaged, plan a better retirement, learn new things, and connect with some wholly new ideas.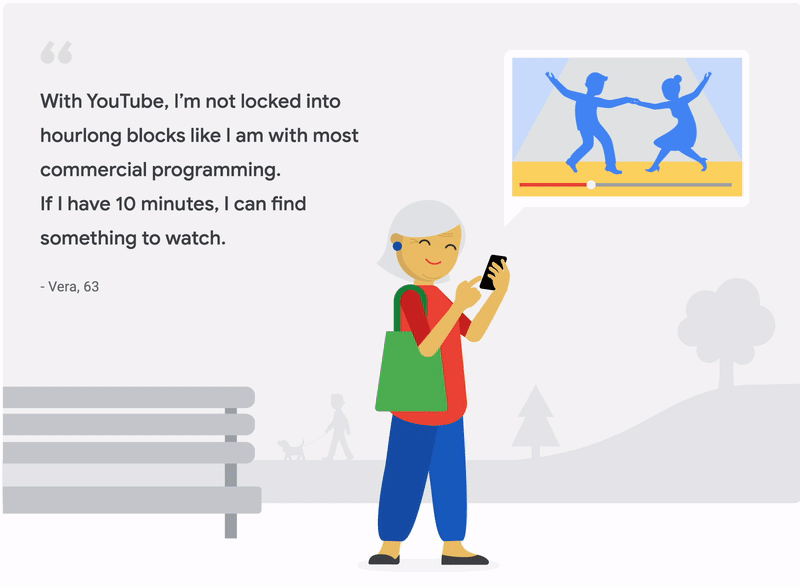 The 3 major reasons why Baby boomers are turning to YouTube:
1. It is often assumed that baby boomers have a lot of time to do things, maybe because 10,000 of them are turning 65 each day, which, on average, is 7 boomers retiring every minute. Reality speaks differently. YouTube, with its easily accessible interface and on-demand information video, seems to attract most of the boomers.
This generation optimizes and channels their time to learn on YouTube. They are the most YouTube using generation currently.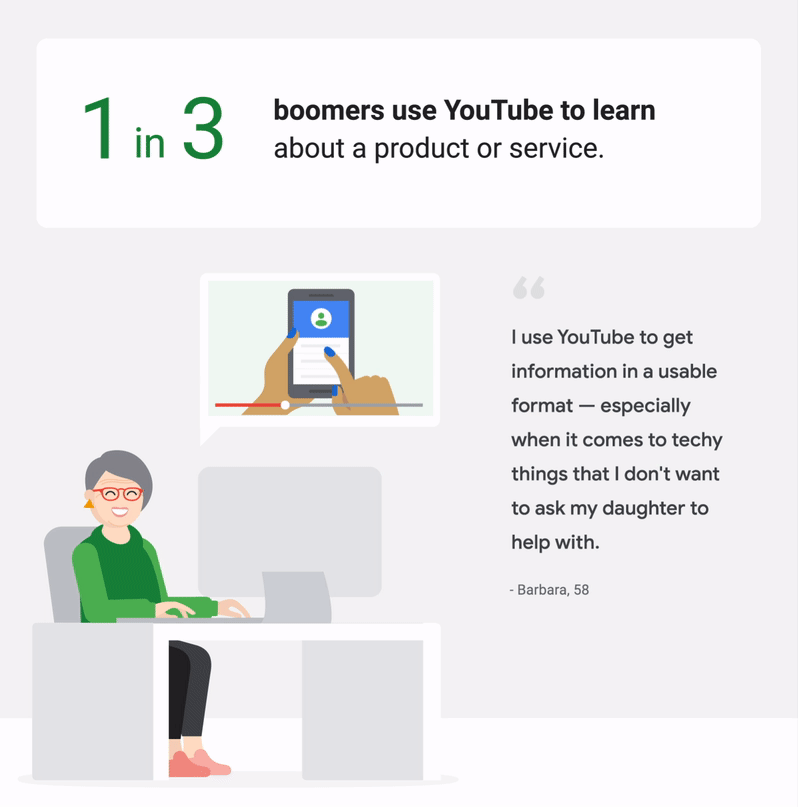 2. Baby boomers turning to YouTube videos with most search on products, technology and gadgets is proof that they have the knack to walk along developments.
They are more likely to search for information and gather knowledge on particular topics themselves instead of asking their younger ones. This reason opens a vast market for tutorial videos, guides, and informational channels.
3. YouTube is a source of entertainment and information for 68% of the "Me-generation." Series and TV shows recapitulations are available on the site hence staying up late to watch shows at inconvenient times is not required. 
The channel has made it easier for the generation to cope up with the latest trends through videos. This point is probably a major reason why most baby boomers turning to YouTube are females.
Baby boomers are passionate learners, hardworking individuals who can wield money for useful content. Their will and interest to use YouTube are higher than other generation, so is their average spending per transaction. Hence, Baby boomers turning to YouTube is a good sign for marketers.
They can utilize the opportunity for expanding the business. Targeting the boomers on YouTube will surely be beneficial for brands.
---
Salorita Mohanty
Peppy, chirpy, sane in her way. Sucker for wild travels & treks. Fond of murder mystery and non-fictional books. Open politics enthusiast and an agnostic atheist. Looks for wackiness in normalcy, adulting at her own pace!